Signing in
Please see the workflow below that applies to you.
---
Basic sign in
Go to http://voicethread.com.
Click "Sign in" at the top-right corner of the page.
Enter your email address and password.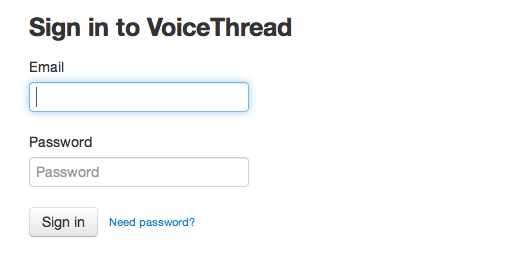 If you don't remember your password, click on the "Need Password?" link on the sign-in page.
---
Ed.VoiceThread sign-in for K-12 students
If you have a K-12 license, you can assign your students VoiceThread usernames (fictitious email addresses) instead of using valid addresses (learn more here). Students can sign into their accounts using only those simplified usernames by following these steps:
Go to your custom domain. This will be structured as: http://yourschool.ed.voicethread.com
Click "Sign in" at the top-right corner of the page.
Enter their username. When they move away from this field, the rest of the fictitious email address will be added for them.
Enter their password.
Click "Sign in".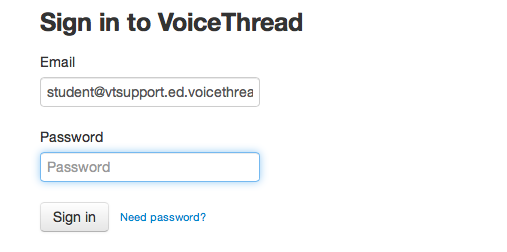 ---
External Authentication
If your school or institution has integrated VoiceThread with its system, you'll need to access VoiceThread according to the instructions provided by your institution.  Below are some of the possibilities:
Navigate to your course in your Learning Management System, and click on the VoiceThread link provided by your instructor.
Visit your school or institution's custom domain, and click "Sign in".
Visit a separate URL provided by your school or institution.
Please contact your instructor or institutional helpdesk for more information.